I'm happy to announce that Netplan version 0.106 is now available on GitHub and is soon to be deployed into an Ubuntu/Debian/Fedora installation near you! Six months and 65 commits after the previous version, this release is brought to you by 4 free software contributors from around the globe.
Highlights
Highlights of this release include the new netplan status command, which queries your system for IP addresses, routes, DNS information, etc… in addition to the Netplan backend renderer (NetworkManager/networkd) in use and the relevant Netplan YAML configuration ID. It displays all this in a nicely formatted way (or alternatively in machine readable YAML/JSON format).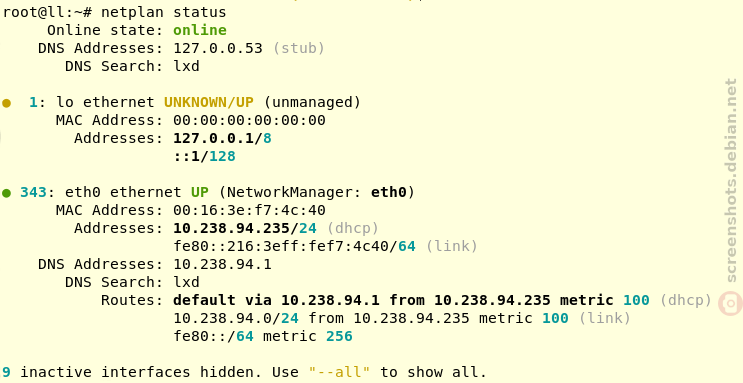 Furthermore, we implemented a clean libnetplan API which can be used by external tools to parse Netplan configuration, migrated away from non-inclusive language (PR#303) and improved the overall Netplan documentation. Another change that should be noted, is that the match.macaddress stanza now only matches on PermanentMACAddress= on the systemd-networkd backend, as has been the case on the NetworkManager backend ever since (see PR#278 for background information on this slight change in behavior).
Changelog
Bug fixes: