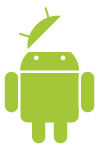 Just flashed Android to my Freerunner…
I didn't think it's that easy!
It's just like flashing a normal Om2008.12 or SHR image. You don't have to use a special bootloader (if you use koolus 1,9MB kernel). But remember to prepare a uSD-card before starting Android.
All necessary files and a step by step guide can be found here: http://forum.koolu.org
Android really isn't usable at the moment. SHR or Om2008 gives you much more functionality. But i had to test it =).
Some pictures…