Goldelico GTA04 – free your phone!
The Goldelico GTA04 >OpenPhoenux< finally made it! Order your GTA04 replacement board for your Openmoko Freerunner (GTA02) and/or 1973 (GTA01) now! (www.handheld-linux.com)
Technical Specifications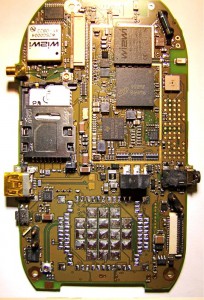 800 MHz ARM Cortex-A8 processor
PowerVR SGX integrated graphics
2.84" (43mm x 58mm) VGA touchscreen
HSDPA 3G modem
512MB RAM
512MB internal memory + SDHC card slot
WLAN, Bluetooth, GPS, FM Transceiver
Accelerometer, Compass, Gyroscope, Barometric Altimeter
USB 2.0 port, 2.5mm headset port, GPS antenna port, video out
Info: The GTA04 project only provides a mainboard, which can be used to upgrade a Neo 1973/Freerunner, while still using their case, touchscreen, antennas, speakers and buttons/leds.
The release announcement
Dear all,
I take for granted that you all are eagerly waiting for an annoucement
that another batch of GTA04 boards becomes available. We did wait
with an announcement until we can really answer all questions.
Now, we think we can.
Components have all been ordered for another (small) batch so that we
can get them from production in December. If everything goes well, we
can even ship out some boards before Christmas.
The boards are named GTA04A4 (meaning the PCB revision). They
are fully featured from hardware side:
* DM3730@800 MHz
* UMTS module with 3.75G (up to 14.4 MBit/s)
* Sensors (Barometer, Compass, Gyroscope, Accelerometer)
* GPS
* connector for optional camera module
* well documented building blocks so that you can write your own
boot loaders and kernels. Nobody stops your creativity and
nobody is pretending to protect you from yourself!
So you get something that is unique. A motherboard upgrade for
a handheld device. With open documentation to develop free and
open software. And, a community dedicated to continue the pioneering
work of the first Openmoko team. Last but not least, a team that listens
to your wishes for future upgrades and trying to fulfill them.
How much will it cost?
We know that most of you do expect that it is not too expensive, something
in the range of the GTA02. Unfortunately, we can't fulfill this specific wish.
There are two main reasons (besides we are not financial magicians):
1. the device has some very expensive components (CPU + Memory +
UMTS module)
2. we have really small production batches and therefore, have to pay
much more for the components than e.g. Apple or HTC (factor 2-3
compared to reports from iSuppli).
And, we can't subsidize devices because this is not a feasible long-term
strategy from an economical point of view.
But since raising the size of the batches ("bulk purchasing") has a
big effect ("economies of scale"), we have developed a strategy that should
make everyone happy:
A) there will be units available from (limited) stock shortly before Christmas,
at a high price. We try to produce more of these units to fulfill orders
within days. This offer is also good for getting samples for projects.
B) you can participate in a group-buy at a lower price. This requires
that we reach a certain number of units before we can start production.
So the price and availablility are:
a) 666,66 EUR; available for shipment from stock; planned to start
on 19th December
b) 499.99 EUR; requires 300 ordered units before 10th February 2012
(week after FOSDEM); production start expected for April 2012. There
is also a rebate for the first 100 early bookings.
There are rebates for quantites: 5% for orders of 5 units, 10% for 10 units,
12% for 50 units. So if you build buying groups (like for the Freerunners),
you can save some more money.
Both offers are ready for preorder/subscription through this link:
http://www.handheld-linux.com/wiki.php?page=GTA04
There is a third type of offer - a customized GTA04 board. This means you
can order a board variant where not all components are installed. And the
display connector can be replaced by a Board2Board connector. This allows
to plug the GTA04 like a module on a master board and develop different
handhelds and tablets based on the GTA04 design.
An example of such a device can be seen here:
http://www.handheld-linux.com/wiki.php?page=GTA04%20Custom
Finally, I have compiled some FAQ we have received in the past. If your
question is not amongst them, please ask.
So let's prove that the Openmoko community can not only design and
build samples of a GTA04 but also go into perpetual mass production.
Nikolaus Schaller
FAQ:
Q: Do I need a GTA01 or GTA02?
A: Yes. The GTA04 is a motherboard that fits into a GTA01 or GTA02
case. It does not have all electromechanic compontents. Missing are:
GSM antenna, internal GPS receiver, Earpiece speaker, Handsfree
speakers, Vibracall motor, Battery holder, Battery, USB power supply,
and very important: it does not include a display module. So you have
to take all missing parts from an existing GTA01 or GTA02.
The only exception is the LCD module where we can provide spare
parts.
But you can operate the board without these components - but then
it is not a handheld portable computer with phone functionality.
Or you can try to build your own case. Some inspiring proposals
and samples have been shown recently (e.g. wooden case).
Q: Does the device support the US frequencies?
A: Yes, it is Quadband GSM/GPRS/EDGE/WCDMA (3.75G), but not
CDMA2000 1x nor EV-DO
Q: Does it have FCC and CE approvals?
A: At the moment partially. The UMTS module and the WLAN chipsets
are fully precertified. And the GTA04 system has successfully passed
the CE emmission tests, that it does not produce harmful interferences.
We are just missing the CE ESD and safety tests.
Q: Why do I have to wait so long if I participate in the group buy?
A: The reason is that our project has no external funding and needs
to collect enough money before we can order chips and components.
This introduces two types of delay: the preorder-window and then
the delivery time of components. E.g. PCBs are built to our specific
request and that needs between 20 and 30 working days. And
producing and testing several 100 units needs quite a while
Q: Will there be variants?
A: We have decided to run only a single variant with all components
installed. It turned out to be cheaper in total than to have a low-end
variant (e.g. without sensors) and a high-end variant.
We have one variant that we can provide on demand: the module
version. You can use it as the basis for connecting larger displays
and experiment with alternate cases. Details how to mount mechanically
and the pin layout can be found in the System Manual
Q: Does it work with a GTA01 case?
A: Yes. You will even get stereo speakers since the speaker box of the
GTA02 has two. One was sacrificed in the GTA02 to provide WLAN.
Q: Do you have complete phones?
A: We have a handful of complete phones built from returned GTA02
units. They are also available in the shop:
http://www.handheld-linux.com/wiki.php?page=GTA04%20Complete
Q: Do I get the money back if the group buy does not reach the minimum
quantity within the preorder window?
A: Yes. 100% (less money transfer cost).
Q: What is the status of the software?
A: We (Goldelico) do offer a hardware validation kernel and a
Debian/LXDE rootfs, but this does not comprise a phone software.
Projekts like SHR, QtMoko and others are in the middle of porting
their distros to the GTA04 platform. So the software is not completely
ripe but on good progress.
But we already can do phone calls by a simple shell script and
apt-get install through UMTS.
Q: Is there driver support for every bit and piece of the hardware?
A: We do not yet have drivers for Camera, IrDA, Audio IN, Torch/Flash,
FM radio. If you can support the development, please help!
Please also note that these hardware parts have not been tested in
detail. So they may not work at all.
Q: Where are the schematics?
A: The System Manual includes the schematics:
http://projects.goldelico.com/p/gta04-main/downloads/37/
They will be updated soon to reflect the changes from the GTA04A3 (Early
Adopter) to the GTA04A4 board.
Q: Do you have spare components like case, antenna etc.?
A: We can't buy or produce these parts and have no steady supply.
We will try to get some replacements, but can't promise.
Q: Is it possible to downgrade from the GTA04 to GTA02?
A: If you swap the display again, yes. You can also get a second
display module so that you can simply swap the GTA02 and GTA04
boards+display units within minutes:
http://www.handheld-linux.com/wiki.php?page=LCD%20Module
Q: Do I need a debug board?
A: No. The TI OMAP is "unbrickable" and you just may need a
RS232 cable to boot and reconfigure NAND flash parameters.
Q: I want to use it in a project and need 50, 100, 500, 1000 units.
A: For samples or small quantities, please order them from our
shop. For larger batches, please contact us and we will find out
how fast we can produce and at which volume rebate. Depending
on quantities, we can develop and produce variants.
Q: What can I do to increase the likelihood that the group buy
reaches the minimum quantity?
A: Convince your fellow GTA01/02 owners to think about buying
a GTA04 board. Talk, Mail, Blog about the GTA04 to make it
known that the Openmoko project did lift off again.
Q: I don't feel comfortable to replace the motherboard myself.
A: The most critical part is to remove the LCD module from the
GTA01/GTA02 board. Either find someone to do it for you. Or
get a spare part. Or send the device to us and we will do it for
you at a small fee.
Please follow the instructions like for a buzz rework:
http://www.handheld-linux.com/wiki.php?page=GTA04%20Installation%20Service
Q: I am a reseller. How can I get devices?
A: You are welcome to support the Openmoko movement. But
we can't give any big dealer margins because the components
and production are already very expensive. Please contact us
for details.
Q: My country is not listed in your shop.
A: Running export into all countries on this world needs a
lot of paperwork and knowledge to follow all the customs
regulations. And worse, we have some US-Technology
inside the GTA04 that is classified by EAR. So we need
a re-export permission. This is all beyond our capabilites.
Therefore we have to regret that we can't serve all countries
on this world. But you may find friends who live in a country
we can directly serve and you manage the export yourself.